It almost didn't seem like a work day today since I was at a conference and had a break from teaching kids. I enjoyed the conference and learned a lot as well as had ample time to put it all to immediate use. I was very tired today. My five hours a night may be starting to catch up with me. My body only has to hold out two more days though because we have Good Friday off!
I had to drop a check off to the park office today to go with my application. I somehow missed that part LOL. She said she may hear something late tomorrow or Thursday. That would be good. The owners are waiting on park approval before going ahead with turning on heat, water etc. and showing me that all is still in good condition despite the cold Winter. Then we can schedule the closing because I don't need to wait for bank approval or anything.
There is so much going on in the next couple of weeks. Easter, my speech for the honor society induction next week that I haven't even thought of, the closing, Kev's 8th birthday...I'm sure that doesn't even touch it.
My husband came home today and he has the kids tonight. He's been blue talking about what we are each keeping when I make the move. Understandably he's been able to forget about it somewhat since he's been gone on a trip but now it's back to the real world.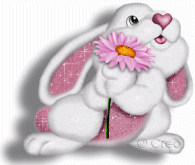 glitter-graphics.com