What's great/bad about where you live?
Ft. Lauderdale, Florida
January 15, 2016 9:02am CST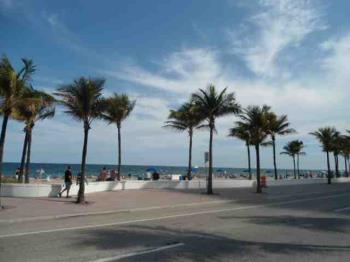 No matter what we try/do to stop people keep from coming Fort Lauderdale and/or Florida our population keeps on growing--Listen, folks, you don't want to move here and here are some reasons. 1 Hurricanes, hurricanes and hurricanes. (Well I guess some people like to get blown away! Not to mention we haven't had a hurricane in 10 years!)) 2. Humidity. Walk out the door and eyeglasses fog up--sweating 24/7 is a given. (Okay so tourists wear sweaters during the summer. They go from an air conditioned room to an air conditioned car to an air condition movie, restaurant.) 3. Living expenses are high, salaries are low. (So you don't have to buy winter clothes, run the heat from November to March but, of course, that money saved goes to very high automobile and hurricane insurance if you can even buy the latter.) 4. Sun. You burn your feet on the sand, the steering wheel burns your hands and can get cancer. (Okay, so when it's snowing elsewhere you are in a skimpy bathing suit drinking a Pina Colada.) 5. We rank 49th in what we pay teachers. (And, along with fireman, policemen, etc., they can't afford to buy a house.) 6. Our students are some of the most poorly educated school kids and we rank high in dropouts. (Well, we do need workers at the fast food places.) 7. Our Governor won't allow affordable health care. 8. We are a blue county in a red state. 9. During rainy season we can get 2-5 inches of rain within a half hour. And we get instant swimming pools as we don't have a sewerage system. (Of course the heat and humidity dry it all up just as quickly.) 10. We were just rated 'road rage' capitol of the USA. 11, We are the scam capitol of the country. 12. Our alligators and/or crocodiles eat people. (Of course we are intruding on their territory and not offering them a place to live.) 13. We get brush fires destroying acres of land. (We have a drought every Winter/Spring and then flooding June to November.) 14. In the summer you can't dive into the ocean to cool off as the water is warmer than the land temperature. 15. Going to Disneyworld for a family can cost more than a week on vacation anywhere else. 16. Most flowers grown here don't have an aroma nor can we raise tulips, irises, lilacs, dogwood and roses don't smell. 17, We rank third in gay partnerships. 18 Castro is only 90 miles from here. 19. We are known to be rude to tourists and we rob them in more ways then one. 20. We have people here from all over the world including illegal immigrants and New Yorkers! Those are just some of the reasons--not all of them. PS Don't let anyone know it is Paradise living here and I love sending, "Don't you wish you were here" cards, and e-mails, when you are scraping ice off your windshield. The water is in all shades of blue and/or green, the sky is beautiful from sunrise to sunset and full of stars at night. The best thing is that I could list 4 times the amount of reasons to live then not but I won't tell you because you'll tell others and the populations will keep on growing. Why shouldn't/should people move to where you live?