Some things said in a discussion amongst domainers today, all in the comment section of a blog:

— You're allowed to offer a discount to Nazis if you want
— In Hawaii if you are Japanese be careful buying clothing, cashiers sometimes sell it to you for 4X the ticket price
— That 10% Nazi discount sometimes gets people angry
— If I were a waiter I'd mark your food up by 5% and pocket the extra, because I'm the best waiter

Hum. The Nazi remarks were said by a hilarious, very smart lawyer who specializes in domain disputes. He was making a subtle dig at Rob Monster (who offers web services to fringe groups in particular).

---
Last week my sisters and I went to Phipps Conservatory, where they still had the summer plants, and this was a show themed on Van Gogh. Here and there among the growths they placed some of their Dale Chihuly glass sculptures, which are permanent fixtures of the conservatory.

These were lovely, and I thought how nice it was that we had some of these sculptures there... but after looking up online other places that hold his sculptures, I am so jealous.

Mostly it's museums and botanical gardens that have them. But once I saw the chandelier thing in the Victoria and Albert Museum, and the "Sun" sculpture in Kew Gardens, the ones here in Pittsburgh are like little playthings.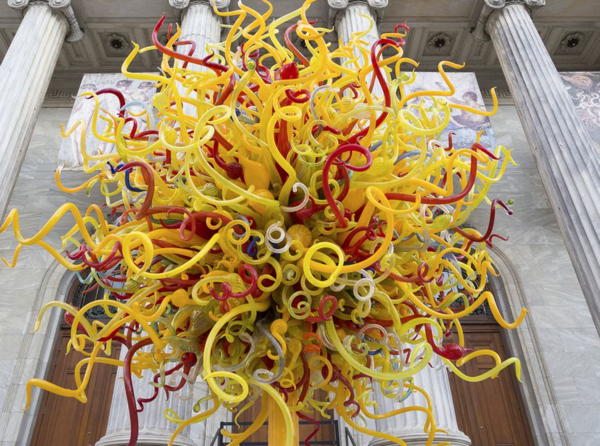 Sun Sculpture

But here are some little tiny ones I haven't seen online -- these little figures were standing in the greenery, sometimes floating above it. Others were standing in a brook:



I have some more, will have to retrieve them.