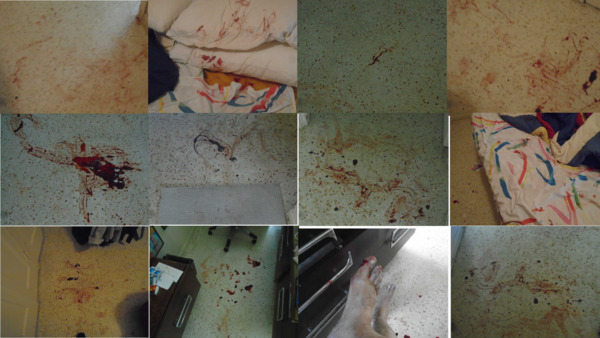 (Who has the sense to take pictures of their bloody floors when bleeding all over? Thanks for cleaning the place Julie!)


It all started Sunday December 19 falling off my recliner (I think?) and then I found myself in Broward Health Center on Monday and spent until Tuesday December 28 in room 3034. The nurses, starting with Ashley who put my robe/gown on---first time I ever remember a nurse doing that as I always remember struggling tying the robe/gown in the back.



Ashley was the start of a super line of nurses who were to help me--now if only I could say the same about the doctors but more about that later! (Also, why hasn't someone made the gown/robe easier to get in and out of with Velcro instead of snaps and cords?)


In any case even though I have always admired nurses the conditions they are now working are almost impossible. Many are working a 55 hour 3 day shift! They are short of equipment, short of help and always entering the room with a smile on their face.


Now on the other hand I seldom saw a and/ or my doctor--I was never quite sure what I had and/or what I was being treated for but on Monday when my doctor said I would be going home in and hour and a half I couldn't but help and smile. I was also told I would be visited daily by a nurse. I WAS NOT discharged in an hour and a half and in fact didn't get out of the hospital until the next day at 3 PM but that was just the start of a horror I am still going through tonight at 7: 30 PM!!


I hope NO ONE has to spend going to the ER 4-5 days in a row or 'live' what I am going through now. I am, basically, an optimist but I am having a real hard time lifting my 'spirit' right now.


More to come.