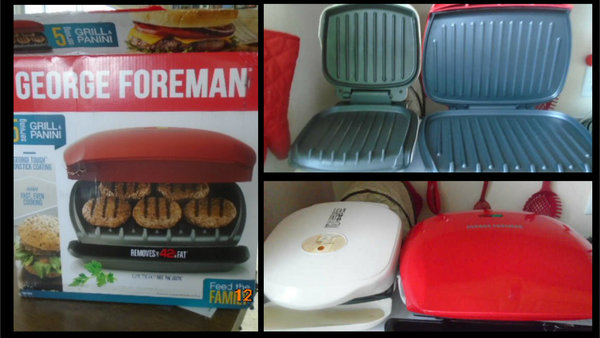 In 2004 (we think!) Chuck, via Gino's suggestion, bought me a George Foreman Grill (in white) and I put it away for a decade.


About 2-3 years ago I decided to make a major change in my kitchen and I covered the stove top and oven door with contact paper and set the microwave oven on the stove top, the crockpot near it and, yes, the grill on top of the microwave oven!


Using all 3 made life a lot easier but I could kick myself for not using the grill before as it is great for making so many things and, like the crockpot and microwave, a snap to clean after using. (By the way for those of you who may not know it there are liners for the crockpot that making something in it cuts cleaning time in half!)


I've been using the grill more and more as the months went by and the only complaint I have is that it isn't big enough for the portions of steak, chicken and sandwiches I eat/need.


So I did what makes perfect sense--I bought a Hanukah and Christmas gift for me--a new grill in red and almost twice the size of the white one. I've been using it all week.


I could have put it on my Birthday Gift Wish list but like the kid I am when I want something I want it--so I got it!!