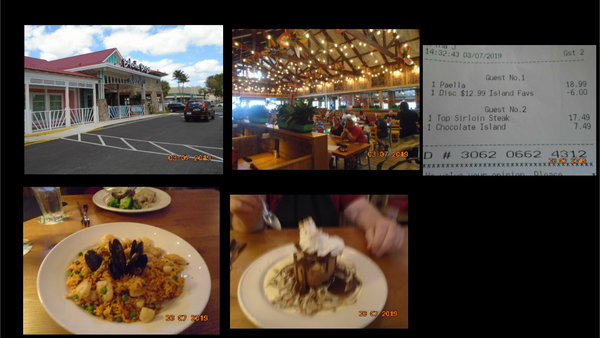 Bahama Breeze's new location on Federal Highway is brightly decorated, has a lot of parking, though the sidewalk opposite handicap parking is a little bit off with the low sidewalk far from the entrance, a young staff does their best but like the rest of the Darden restaurant group it just doesn't work completely.

There seem to be two reception desks and yet even though with 2 employees at each we didn't get a greeting and had to let them know we wanted a table though it was obvious we weren't there to rent a canoe!

After being seated we were approached by a waiter who took our drink order, explained that the menu is big (it is--in size and quantity), to take our time and if we had any questions to be sure to ask. We were certainly off to a good start with him only for him to come over a few minutes later to tell us he had just been told to go on break as he had to work the dinner shift and that our new server would be right over and she did with a big smile.

We had asked for water and after ordering we waited 10-15 minutes for our main course which is all we got! When you are paying $20-25 for a lunch it might be nice to get some "Bahmanien" type of bread or something while waiting for the main course or maybe a complimentary cup of soup or salad.

Allen ordered the Top Sirloin Steak ($17.49) medium but it came medium rare. I had the Seafood Paella ($18.99) which immediately reminded me of the Olive Garden in the sense that is supposed to be Italian food but is very bland. The Paella did have a good variety of seafood, plenty of it and a good portion of rice but there was no 'kick', no real spices to give it all taste. I did have a $6 off coupon I had gotten in an email so maybe if I had paid full price I would have gotten some taste.

Allen had the Chocolate Island ($7.49) for dessert which he liked.

The service was slow and I didn't know whether that was because the server had too many tables, didn't know how to coordinate serving or possibly the kitchen was slow so I gave her the benefit of a doubt as I never blame servers unless it is obvious.

The check minus the $6 coupon plus tax and tip came to $50 and for lunch for just a main course and a glass of water is a bit high for my budget.

I'm glad I went, gave it a try but it is not a place I would return to as I find most Darden Group restaurants, except for their Steakhouse, just miss that 'thing' that makes a restaurant good.