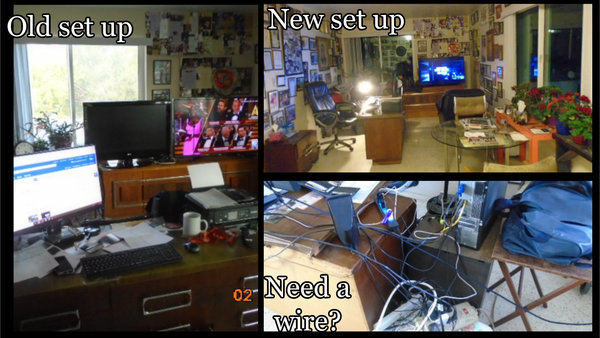 Sometimes, not often, I mildly curse Tom Edison, Ben Franklin and others who made electricity so much a part of our lives and now with the tech age I am cursing more often.

Won't get into my modem not working so I don't have TV but I decided to rearrange the 'east wing' of my apartment and all I discovered is that with all the wiring needed for products today a person can go crazy, especially if you can't hide them!!

Right now I have wires for:
PC tower
Modem (3)
printer (2)
Speakers (3)
Chargers for camera, phone(s) (4)
TV (2)
Additional port USB hub plus memory USBs (7)
Desk lamp
Battery back up for PC tower
Plugged into wall

That's 25 wires (my mouse and keyboard are wireless) that I am trying to hide!
Any ideas? Suggestions?