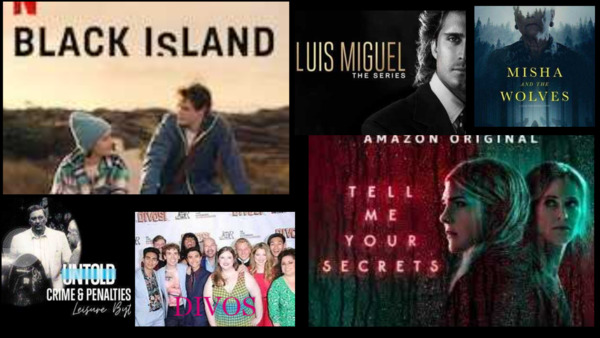 1) "Black Island"--Netflix--German Thriller--1 hour & 44 minutes--scenic--very little suspense--okay but if you miss it you don't miss much--ALREADY HAVE FORGOTTEN WHAT IT WAS ABOUT


2) "Luis Miguel: The Series"--Netflix--Spanish series--2 seasons--total of 17 hours & 40 minutes--though I know of many Latin singers ranging from Cuban to Mexican to Spanish I have never heard of Luis Miguel and had to look up to find out if he was a fictional character or not and found out that 'he is the most successful artist in Mexican history'--I watched the first 10 episodes and had to give up--a lot of 'soap opera' starting with what happened to his mother and then is dropped after his uncle tells him his father had something to do with it--none of the music was familiar and wasn't particularly good--FOR ME TO STOP WATCHING A SERIES, MOVIES, READING A BOOK, ETC., IS SO RARE BUT I GAVE UP


3) "Misha and the Wolves"--Netflix--Documentary--1 hour & 30 minutes--is it true? Is Misha the first to make money and fame off the Holocaust? Or should the question be why are we so gullible to believe in an impossible story? Did she really hide from the Nazis living with a pack of wolves? IS THE REAL STORY OF MISHA MORE MOVING? MORE BELIEVABLE? YOU DECIDE!


4) "Untold Crimes & Penalties"--Netflix--Sports Documentary--1 hour & 26 minutes--Part 4--(I only saw this one chapter of a series about sports and crooks) You want violence? The 'mob' sports? If you haven't heard of The Danbury Trashers or Jimmy Galante or the Galante family this is a story of 17 year old AJ who was a hockey mad teenager and was given the team as a gift from his father! YOU COULDN'T MAKE UP A CAST OF CHARACTERS LIKE THIS WITH ARCHIVAL FOOTAGE TO BACK THEM UP


5) "Divos"--Amazon Prime--movie--1 hour & 38 minutes--it is an old fashioned 'let's put on a musical' with senior high schoolers--even Judy and Mickey in the old MGM movies did better than this--HECK, ANYONE CAN DO BETTER THAN THIS--EVEN ALL THE STEREOTYPES ARE PRESENTED BADLY


6) "Tell Me Your Secrets"--Amazon Prime--thriller series--10 episodes--7 hours & 41 minutes--a crazy all over the place thriller which holds your interest because it is so crazy! Maybe if I watch the last 15 minutes of the last episode 10 times I would get all the answers, especially the last 3 minutes. THERE IS A SEASON 2 COMING---MAYBE--REMIND ME NOT TO WATCH IT!