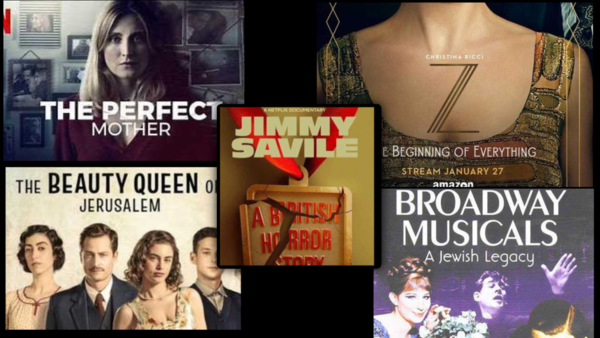 1) "The Perfect Mother"--Netflix--French mystery series--season 1--4 episodes--3 hours & 16 minutes--mothers get a bad rap in this series (but don't they always?)--but mothers will go to any lengths to protect their children even if they really don't know them--Helene is there for her daughter Anya when the latter is accused of, or at least implicated as an accessory, since she is found to be lying--from there she is asked questions, answers them to not be believed--I did have one major question that wasn't really answered but it didn't distract from a good mystery which isn't stretched out as most murder series are even if 4 episodes could have just been made in 3!


2) "Z: The Beginning of Everything"--Prime--season 1--10 episodes--4 hours & 50 minutes--was F. Scott Fitzgerald really this petty of a man? Did Zelda really do most of his writing? This is not a very flattering picture of the man and yet, Zelda, with all her negative actions is made top look like4 an angel--I love Christina Ricci and have been a huge fan of hers since day 1 and she does a fine job as the flapper with a reputation of being a bit 'wild' though the series is wholly on her side--if there is a second season will it turn against her? Just had a thought--she and Laura Linney would be great in a movie playing sisters? Mother and daughter? Guess I'll have to become a producer!


3) "Beauty Queen of Jerusalem"--Netflix--Israeli TV series--10 episodes--7 hours & 23 minutes--this is a story about a bond between a father and his oldest daughter--his mother rules everyone and her late husband's business which their son now runs--she doesn't care about her daughter-in-law at all and doesn't feel she should have it any better than she did which wasn't good to begin with--I never did understand the strong bond between the father and daughter and not the husband and wife, though she was brought into the marriage to give him a son and instead 'give' him 3 daughters--it takes place from Israel being under the rule of the British to going independent and prosperity going back and forth between the decades--it would have been much better if it had been done in a linear manner plus it leaves a lot of unanswered questions but not about the mother-in-law as it is obvious she is very bitter and why--if there is a second season there are a lot of questions that have to be answered!


4) "Jimmy Saville: A British Horror Story"--limited series documentary of a true story--2 parts--2 hours & 51 minutes--if you are dumb or just never taught or only assumed all pedophiles were homosexual it is a fact that more heterosexual fathers, stepfathers (and mothers) abuse children more than any other group--Jimmy Saville was a very popular entertainer on British television, also known for his charity work, knighted by the Queen including raising $20 million for Stoke Mandeville hospital where, among other places, he abused over 400 children and adults with mental problems or unable to fight back--the second part is hard to watch because for over 40 years he was loved by the public and as some of his victims speak you wonder how the public didn't know or didn't want to know and, sadly, there are still monsters like that everywhere!


5) "Broadway Musicals: A Jewish Legacy"--Prime--documentary--1 hour & 24 minutes--with the exception of Cole Porter most of the original music makers of Broadway were men---yes men--that's another film!--such as Lorenz Hart, Richard Rogers, George & Ira Gershwin, Jerry Bock, Jule Styne, Jerome Kern, Kurt Well, Leonard Bernstein, Stephen Schwartz, Jerry Herman, Irving Berlin, etc., gave Broadway such shows as "The King & I", "Fiddler on the Roof", "Show Boat", "West Side Story", "Funny Girl", "Cabaret", "La Cage Aux Folles", Porgy & Bess", etc., most showing how the people in these shows were also seen as 'outsiders' with , basically, only 'Fiddler' and 'Funny Girl' were 'Jewish'--the documentary shows and proves their hypothesis which leads up to making room for Stephen Sondheim, Adam Guettel and a different kind of music, songwriters and 'Broadway'--it is worth watching to see the progression of what has become the world famous Broadway, with many examples and clips from the shows.