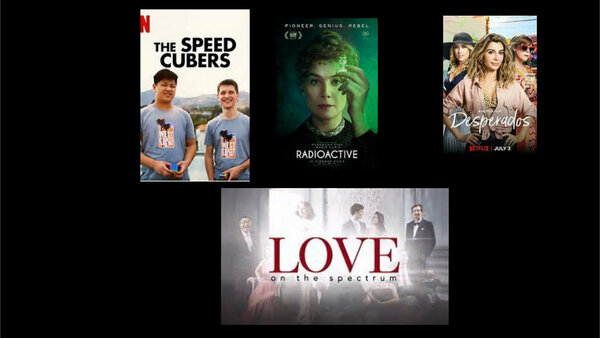 1) "The Speed Cuber"--Netflix--documentary--40 minutes--WOW! I never knew there was such a thing as speedcubing world championships nor was I aware that someone could solve a Rubik's Cube with one hand let alone before you know they did. I certainly wasn't aware that I would get so involved in what I would call a 'sport for nerves' and regret that I ever thought so or called it that! What really holds your interest is the story that ties Feliks Zemdegs, king of the cubers, and Max Parker who is beating all the former's records and both becoming fast friends with Max, who is on the autistic spectrum, learning socialization from Feliks. You want both to win the present championship which isn't possible but more than that you don't want this film to end. It was made in Australia in Sidney and Melbourne.


2) "Love on the Spectrum"--Netflix--reality show--5 episodes--3 hours and 33 minutes--also made in Australia and dealing with autism. I don't watch 'looking for love' a la "The Batchelor" and why I started watching this I have no idea. On the one hand, I know very little about autism and I found this from the get-go joyful, warm and a learning experience. Plus seeing them wanting to fall in love and having families while in many cases lacking what would be called social skills is touching and hurts when they are disappointed and on the other hand a lot of fun when they are having fun. This is definitely on the WOW! scale.


By the way, in both movies, the parents of all deserve a lot of credit for being no different than other parents.


3) "Radioactive"--Amazon Pride--movie biography--1 hour and 43 minutes. Under normal circumstances this film would have opened in movie theatres and there would be a lot of word of mouth about Rosamund Pike being nominated for an Oscar, deservedly, and possibly the film, just as Greer Garson and "Madame Curie" were in 1943. Oh, that's right, you would have to be of a 'certain age' to know who Greer Garson and I am so all I could think of was her as I watched this film. Yes, Pike is excellent and this film goes into much more than the other one did and covers a longer period and holds your interest. I do recommend it and wonder why I still want to see the 1943 film again?


4) "Desperados"--Netflix--movie--1 hour and 45 minutes--A comedy that isn't funny, a film about women written by a woman who doesn't seem to think too much of women! Not worth the time!