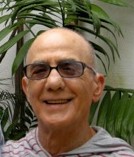 Alfredo



For those who knew Alfredo I am sorry and sad to relay a message I just received from his partner, Michael, of more than 45 years, that Alfredo passed away.

He put up a gallant fight all year round and will be missed by many people.



I cherish the time they came down to see the revival of "a Chorus Line" in Fort Lauderdale and will remember all we did.
At the age of 90 Alfredo left us after living a good life.


For those who might want to send Mike a note of condolence please PM or email me and I will gladly give you his email address!





Mike and Alfredo