When we arrived back at Marg's house I was greeted by angel who isn't and shown to my room where I unpacked and setled in, the first night I was in bed by 9.30pm as jet lag had caught up with me. I was awoken on the Sunday morning by the smell of freshly baked muffins and coffee and had a wonderful breakfast, later we went to a craft fair near the house but I forgot to take my camera so no pics of that day.
The next day we had breakfast an had some fun dyeing sock yarn in preperation for marg teaching me how to knit socks.
my first attempt
the end result
The next day we met DH for lunch at harbour quay and I had chance to snap some photos from the top of the clock tower.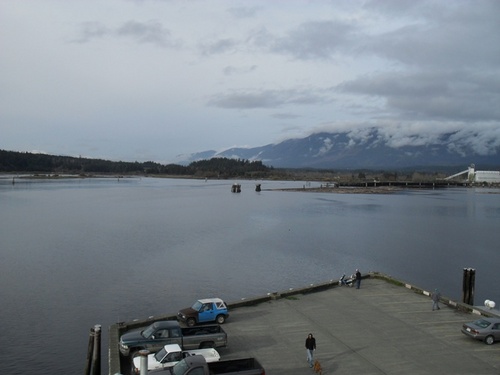 Back on the ground there was some really nice native carvings of birds and a huge fountain with salmon carved out of stone.
After walking round a few stores it was time to go home and carry on with the sock knitting which I have now become addicted to lol
To be continued................