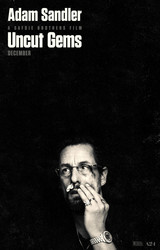 I am so glad I saw "Uncut Gems" as my first movie in 2002 for the following reasons:

1) I know I have seen the worst movie I will see this year

2) I know this will be the loudest/nosiest movie this year with
A) Most of the actors shouting through 95% of the movie
B) It will be the movie with the most curse words
C) The soundtrack, whether needed or not, will be one of the loudest
D) It will be the most stereotypical movie of the year regarding New Yorkers, Jews and/or Blacks.
E) It will be my shortest review of the year!
F) It helped me make up my mind to NOT have to go to a movie every Friday and
G) I will walk out of a bad movie!



Always trying to be positive I am glad to have seen Idina Menzel in a movie even though her role was negligible and being unfamiliar with Julia Fox she did make her second oldest role in movies--the other woman--noticeable.


Last, but not least, I will say there is a lot of favorable talk about Adam Sandler's performance but it hasn't changed my mind about his lack of talent!