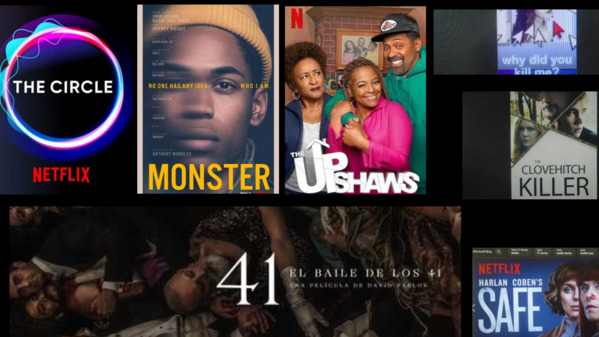 1) "The Circle"--Netflix--Reality show--2 seasons--season 1 12 episodes--9 hours & 42 minutes-- not my sort of reality how--too much negativity--DIDN'T/WON'T WATCH SEASON 2

2) "Monster"--Netflix--movie--1 hour & 40 minutes--I had to watch it--I LOVE Charlize Theron and she was great in another movie titled "Monster" and Jennifer Hudson--I said if they didn't win an Oscar for their roles (Theron in Monster and Hudson for Dreamgirls) I would never go to the movies again--WHEW!! They both won!) BEEN DONE BEFORE & BETTER

3) "The Upshaws"--Netflix--comedy series--season 1--10 episodes--4 hours & 31 minutes--I didn't laugh once--gave up--I LIKE WANDA SYKES BUT....

4) "Why Did You Kill Me?"--Netflix--Documentary--1 hour & 23 minutes--a mother uses social media, and her niece, to find the men (man) who killed her daughter--though the mother is far from perfect DOES ANYONE DESERVE TO LOSE A CHILD?

5) "The Clovehitch Killer"--HULU/Prime--movie--1 hour & 50 minutes--search for a serial killer--too many holes in the screenplay--LEAVES TOO MANY QUESTIONS AT THE END

6) "Dance of the 41"--Netflix--movie--1 hour & 40 minutes--I am surprised I never heard of this before--based on a true story of 42 members of gay men in the upper echelon of Mexican society including the son of the president of Mexico--became the first society to be spoken about in the Mexican media--AN OPULANT PRODUCTION PRESENTING LIVES THAT WERE CHANGED FOREVER

7) "Safe"--Netflix--thriller series--season 1--8 episodes--6 hours--first 7 episodes interesting, intriguing, following a linear story--IN EPISODE 8 IT FALLS APART AND RUINS EVERYTHING

PS Season 2 of "Who Killed Sara?" has returned to Netflix and the last season of "Bosch" has returned to Prime while "Lucifer" will return to Prime May 28 and on the same date "The Kominsky Method" pairing Mike Douglas & Kathleen Turner will return to Netflix.