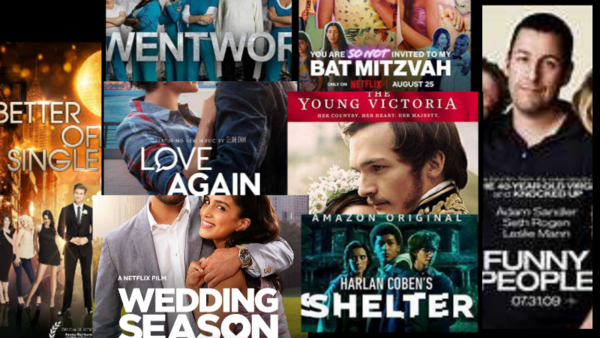 1) "Better Off Single"--Pride Amazon--movie--1 hour & 20 minutes--follows one man's post-breakup quest in the dark waters of the NYC dating pool to find new love... and himself--nothing new in the field of romantic comedies but short, entertaining and good cast.


2) "Wentworth"--Netflix--Australian movie--9 seasons--this reviews seasons 1 & 2--each 10 episodes running about 8 hours & 34 minutes--Bea Smith is locked up waiting for her trial for the attempted murder of her husband and must learn how life works in a prison--to me the best women's prison movie is "Caged" with Eleanor Parker and the best series is "Orange is the new Black" but 2 seasons of "Wentworth" has caught my interest with enough characters of varying story-lines that I won't binge the other 7 seasons but I will certainly watch them all.


3) "You are So Not Invited to My Bat Mitzvah"--Netflix--movie--1 hour& 43 minutes--an American comedy about a Jewish ritual where a 12-year-old girl becomes a woman and has all the rights and obligations of an adult--thee cast is made up mainly of Adam Sandler and his family with exceptions like Idina Menzel playing his wife--I am not a fan of his but the cast seems to be having fun--I do like Menzel and it is an okay comedy with all that can go wrong and all that is right with a family.


4) "The Young Victoria"--Netflix--movie--1 hour & 44 minutes--based on the early life and reign of Queen Victoria and her marriage to Prince Albert--how much is true and how much is imagination? Does it matter? A beautiful love story.


5) "Funny People"--Netflix--movie--2 hours & 26 minutes--a cantankerous movie star discovers standup comedy and the benefits of meaningless relationships--the famous comedian discovers he has a terminal illness and decides to mentor a young comedian--has some laughs but a very disappointing, too long, film from Judd Apatow.


6) "The Wedding Season"--Netflix--movie--1 hour & 37 minutes--under parential pressure to find spouses. Asha & Ravi pretend to date during a summer--and if you don't know how this story ends you need to see more--a lot more--Hollywood rom-coms--though this gets a little more teary!


7) "Harlan Coban's Shelter"--Prime Amazon--season 1--4 episodes--3 hours & 16 minutes--Mickey Bolitar, after the death of his father, leads him to start a new life in suburbia New Jersey--he thinks he is losing his mind when a creepy old lady tells him his father is alive--a mystery thriller with a lot of strange twists not to mention strange people--you will either love it or hate it--I didn't love it!


8) "Love Again"--Netflix--movie--1 hour & 44 minutes--still grieving her fiancee's death an artist texts her deepest thoughts to his old cell phone number and forms a connection with the guy the number has been reassigned to--Priyana Chopra Jones brings that extra spark to make the role special and Celine Dion is used as a 'gimmick' and it works--technology is taken for granted in a strange twist--a sweet story--I am a fan!