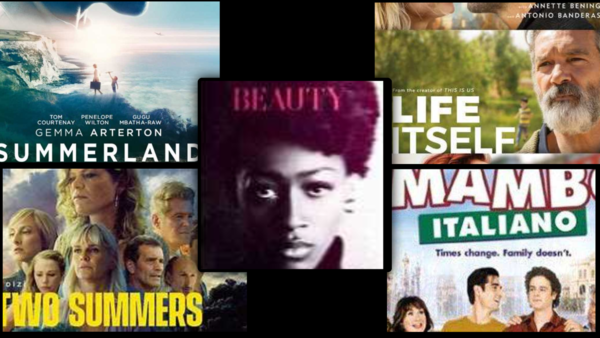 1) "Summerland"--Netflix--British film--1 hour & 39 minutes--synopsis: In 1940 Alice Lamb, lives in a cottage by the seaside in Kent. She has lived in the village since before the start of WWII, and tolerated the harassment by local children who thought she was a witch because she was a loner. As part of the war effort, the brusque and reclusive writer is entrusted with the care of a young boy, Frank, who left London where it is unsafe. Alice had not volunteered to be a host and does not want to care for him as she fears it will interfere with her work but reluctantly agrees to let him stay believing that he has nowhere else to go and she will be able to be rid of him in a week. As she begins to accept Frank's presence, she recalls her relationship with Vera, a fellow student at university who wanted to be a novelist and with whom she fell in love. Vera breaks Alice's heart when she decides to end their relationship not because it was considered taboo, but because she has a strong desire to be a mother and it could not be possible with Alice-- was it just 9 years ago when I saw Gugu Mbatha-Raw star in "Belle" and "Beyond The Lights" that I thought she would be a huge star but as beautiful as she was and a first rate actress and even become more beautiful that hasn't happened--I thought at the time, and I still think so, her name has worked against her--a young lad Lucas Bond steals the movie with one scene near the end between him, Gemma Arterton and Gugu Mbatha-Raw


2) "Life Itself"--Prime--American Film--1 hour & 57 minutes--synopsis: as a young New York City couple goes from college romance to marriage and the birth of their first child the unexpected twists of their journey create reverberations that echo over continents and through lifetimes--Dan Fogelman, who wrote and directed "This is Us" does the same with this film--going back and forth in time he knows how to make the cliches move you--he makes old stories seem new and has an excellent cast to work with--we don't really know where it is going until it gets there--I recommend it for people, like me,who believe in life and love.


3) "Beauty"--Netflix--movie--1 hour & 35 minutes--synopsis: a young black singer on the brink of a promising career finds herself torn between a domineering family, industry pressure and her love for her girlfriend--a singer you never hear sing? A drama with no drama? A load of legendary black singers and yet Judy Garland is used for the major point? Then there is the guy next door and what's that all about? This is a movie in search of a movie!


4) "Two Summers"--Netflix--French series--season 1--6 episodes--4 hours & 35 minutes--synopsis: group of friends get together 30 years after one of the members died in an accident--a relaxing vacation turns into a nightmare when some of them are being blackmailed for a sexual assault that took place 30 years before--the series goes back and forth in time and I really couldn't tell who was who regarding the younger selves--who is threatening them all and who cares? This is a 4 and a half hour series that could have been told in a 2 hour movie and telling it in a linear fashion would have made it so much easier to follow not to mention there be some resemblance between the your people and their older selves.


5) "Mambo Italiano"--Prime--Canadian Film--1 hour & 39 minutes--synopsis: when an Italian man comes out of the closet it affects both his life and his crazy family--a by the numbers film taking place in Montreal, with comedy and expected number laughs, loud outrageous parents, one gay guy and another who doesn't know, a neurotic sister, etc., yes all there but still entertaining--give it a try when you want something and don't have to think--smile, even laugh now and then and afterwards don't give it a second thought!