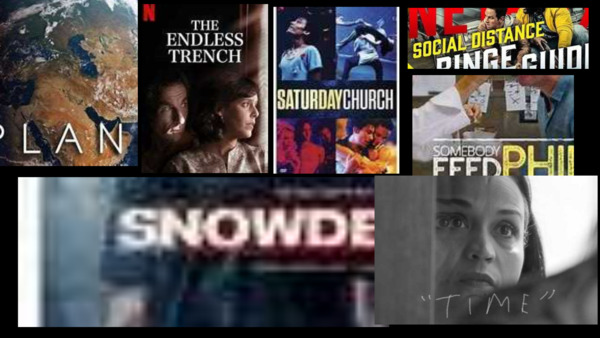 1) David Attenborough "A Life On Our Planet"--Netflix--Documentary--1 hour & 20 minutes--and
2) "Somebody Feed Phil"--Netflix--Documentary--Season 1--6 episodes--5 hours & 35 minutes
Both have very interesting subjects but the narrators, David and Phil, resulted in my not looking at the films about 20 minutes in!


3) "Snowden"--Netflix--Film based on a true story--2 hours & 14 minutes--only Oliva Stone film I have ever liked was "Wall Street" and this doesn't change that--first time I have ever seen Shailene Woodley NOT have chemistry with her leading man though Joseph Gordon-Levitt does a good job as the title character--the love story in this 'true' story should have been left out--the love story only slowed down a complicated film.


4) "Time"--Netflix--Documentary--1 hour & 21 minutes--based on the premise that 'Love =s only valid expression' it shows the fortitude of a wife's love bringing up 6 boys by herself and teaching them a love for their father who has been in prison for an unfair sentence because of race. The crime was shown but the reason glossed over which affected the rest of the film.


5) "Saturday Church"--Netflix--Movie--1 hour & 22 minutes--part "Pose", part reality--it is never easy being yourself especially when a teenager--the dancing and singing add a lot of weight to the film.


6) "The Endless Trench"--Netflix--Spanish Film--2 hours & 27 minutes--based on true stories that took place under the Franco regime with this one concentrating on a man who spent over 30 years hiding in his own home with the help of his wife--too long--too confining--interesting but too confusing.


7) "Social Distance"--Netflix--Anthology--season 1--2 hours & 43 minutes--episodes last from 16-23 minutes each--looking at the way we communicate during an epidemic--in particular the COVID -19 virus.


IF YOU DIDN'T SEE IT LAST SEASON CATCH GREAT PERFORMANCES "FIDDLER: A MIRACLE OF MIRACLES' ON PBS (TONIGHT) AT 9 PM OR THEIR STREAMING PASSPORT--YOU WILL LOOK AT THE SHOW AND/OR MOVIE AT ANOTHER WAY!