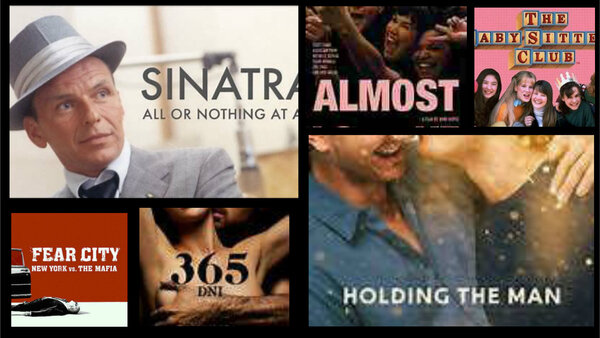 1) "Sinatra: All Or Nothing At All"--Netflix--documentary--2 parts--total 4 hours. No matter what you may think of the man there is no denying he is the greatest American singer who made each song 'a 4-minute movie'!


2) "Holding The Man"--Netflix--Australian movie--2 hours and 8 minutes. Based on a true story and book written by Timothy Conigrave who died 10 days after finishing the book at the age of 34. It is about the love between him, a drama student, and John Caleo, a football player, who met in school, came of age during the AIDS crisis and were together for the next 15 years. Though some parts may have called for it the movie is free of maudlin sentiment, nor is it indignant or evangelizing, just a beautiful love story that may have a 'happy ever after ending' depending on how you see it.


3) "Almost Love"--Netflix--New York set movie--1 hour and 34 minutes. The movie is about 4 couples all at different points in their relationships. There are a black man and white woman who has been together 15 years, 2 gay men celebrating their 5th anniversary, a fat woman and homeless man and a teacher who tutors a high school student who is in love with her. It is a film about intimacy and the difficulties of having a long-lasting meaningful relationship.


4) "365 Days"--Netflix--Italian movie--1 hour and 53 minutes--a very wealthy man kidnaps a woman and gives her 365 days to fall in love with him. It's not THAT bad though the premise might offend people.


5) "Fear City: New York vs The Mafia"--Netflix--2 hours 34 minutes--3 episodes--"The Godfather" is a lot more exciting to watch while this puts you to sleep. I did learn that Trump, among many other builders, paid $19 million to the mob.


6) "The Baby-Sitters Club"--Netflix--series--First season--10 episodes--4 hours and 55 minutes--takes place in Stoneybrook, Connecticut. Mostly for teenage girls and since I am not a teenager or a girl it was NOT for me.