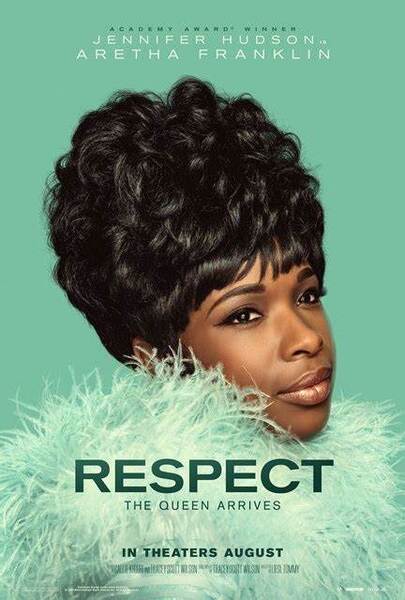 (This is my edited review from August 13, 2021, when I saw it in a theatre at a time not many people were going out to see movies. I was very disappointed that the movie did so poorly and that Hudson wasn't Oscar nominated for this dynamite performance. Here is a chance for to see it for the first--or 3rd time like I will!!)
In 2004 I was cheering (and voting) for Jennifer Hudson to win that season of American Idol. She didn't but do you remember who did??  In 2006 I walked out of the Gateway Movie Theatre after seeing "Dreamgirls" and said that if she didn't win an Oscar I would never go to the movies again---whew! She did and I am still going to the movies! (In fact I haven't understood why her movies haven't done much better including a great performance as Winnie Mandela in the picture of the same name.
It is easy to see why Aretha Franklin wanted Hudson to play her in the movie because Hudson is perfection in the role, not imitating her but being her. I was never a fan of Franklin's but Hudson makes me want to listen to Franklin's records again and see if I have changed my mind
In 2008 Jennifer Hudson's mother, brother and nephew were killed by her brother-in-law knowing tragedy at at a time when she should have known none but then Aretha Franklin's tragedies started earlier at the age of 12 being raped by a friend of her father and giving birth to her first son. She, like her mother, was abused by her father, not physically but mentally, who also raped a 12 year old girl and got her pregnant but was never accused due to the laws at that time.
Franklin was attracted to abusive men and didn't make it big until she took charge of her career and sang what she wanted to sing, not what and how the men in her life wanted her to sing.Aretha Franklin's career is what make legends and Jennifer Hudson puts across the pain and joy the woman felt as going through the phases of her personal life and career while she also uses her powerful voice to show how the star became a legend.
>There is a strong supporting cast with 6 time Tony award winner Audra McDonald in an almost cameo role as Aretha's mother though she does get to sing one song briefly and simply plus Mary J. Bilge plays Dinah Washington, also in a cameo, not singing but showing how a woman has to have strength to survive in show business.  Kimberly Scott as her grandmother, Haily Kilgore and Saycon Sengbloh as her sisters and back up singers while Skye Dakota Turner, who recently played Tina Turner as a child on Broadway plays Franklin as a the child 'with a big voice', all give effective performances while among the men Forest Whitaker as her father, Marlon Wayans as her abusive husband and Marc Maron as a record producer who believes in her all do standout jobs.
Leisl Tomm, making her first feature film, has a few missteps but, obviously, loves working with actors and certainly lets her star do her 'thing'."Respect" is 2 hours and 25 minutes long---and one must stay for the last song which is sung by Aretha Franklin--but it is the 2 hours of Jennifer Hudson that makes this movie whether it is her singing or actin