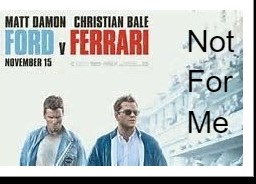 I can count on 1 finger how many racing car movies I have seen and though I may recall who was in them I don't remember any of them and, sadly, because I had heard good things about "Ford v Ferrari" it will probably be in the same category. Based on a true story, the screen writers Jez Butterworth, John-Henry Butterworth and Jason Keller, juggle 4-5 different stories to add human drama to the film while eliminating any one of them would have brought the movie in at a reasonable showing time, way less than the 2 hours and 30 minutes it runs.



At the same time the director James Mangold has one too many race scenes, one too many shots of a foot hitting the brakes, more shots than necessary to prove Ken Myles is eccentric or business owners and their employees can be underhanded and ruthless.



Caitriona Balfe, though a bit difficult to understand, impressed me playing the wife of Christian Bale, who as driver Ken Myles, has been getting raves for his role, left me cold and also hard to understand. Matt Damon is, as always, impressive in a strong, somewhat silent way, as former champion driver and now designer of race cars. Tracy Letts in the role of Henry Ford II has a 2 minute moving and at the same time funny scene while being solid in the rest of the film. Josh Lucas as the boss's right hand man is an effective villain even if the role is a bit overwritten and obvious.



The banter between Damon and Bale tells a lot about both men but one segment, meant to be funny is only funny due to the reaction of Balfe while Bale's scenes with Noah Jupe, just right as his son, shows the man to be a good father.



The behind the scenes of business life certainly isn't new but the behind the scenes of the racing sport and business aspect of it and car companies is interesting.



Though you may know who the winner is, or will be, in "Ford v Ferrari" it will entertain you if you can get through the 30 to 40 minutes unnecessary segments.