Reviews (All on Netflix)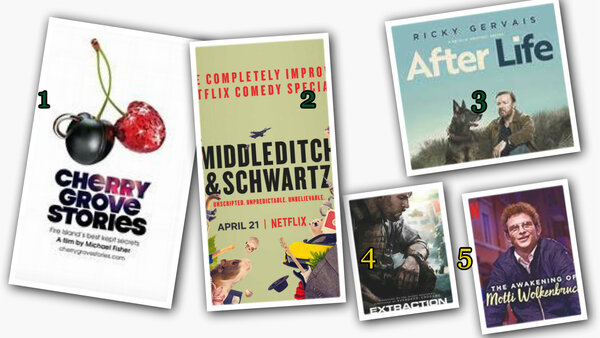 1) "Cherry Grove Stories" Life on Fire Island--history--look at Gay life--interesting for learning about what was and/or for those who were there--otherwise I really can't recommend it. 1 hour and 12 minutes.


2) 2 guys, Middleditch & Schwartz, do 3 different 52-minute segments of improvised comedy. They are very talented and exuberant but I didn't laugh once and after the second segment gave up.


3) I am not a Ricky Gervais fan but he won me over with these 2 seasons, 6-30 minute segments new series called "After Life". The premise is far from a happy one--the death of his wife--but you will find humor in his new found premise of telling people exactly what he thinks no matter what it is or how they feel about what he says. On the edge of suicide, he tries to contemplate how he can have a life without his wife.


4) "Extraction"--116 minutes of violence which I don't recommend. (The film or the violence!)


5) "Th Awakening of Motti Wolkenbruch"--worse than "Extraction" even if no violence! Every stereotype of a Jewish mother, a milquetoast father and a son falling in love with a Gentile girl. A lot of Yiddish terms explained to her and, of course, she has to repeat them with some sort of accent. There is no chemistry between any of the actors, let alone the lovers-to-be. It is a Swiss film done in German and a bad job of dubbing English. You can easily go through life not seeing this loveless, laughless film.