What does it look like after the fire passes through? I'm as curious as you are.

Fire resistant materials on power poles saved them from the fire. (Pictures are from the power company.)




The online communication for the two big fires near us has been excellent. Each fire has its own Facebook page, with daily video updates, nightly live Q&A sessions, and story maps that show the fire perimeters, evacuation areas, and other information. The maps have measuring tools so we can enter our address, then click on an edge of the fire to learn the distance.

The Wyoming fire, 69,000 acres. The red dots are hot spots where the fire is most active. Fire or not, the wind always blows in Wyoming, fanning the flames.




"Our" fire - 120,000 acres. We have been getting some wind there, but not as much as Wyoming. The northern side of it is threatening a community quite a bit like mine - cabins and homes and a couple small towns.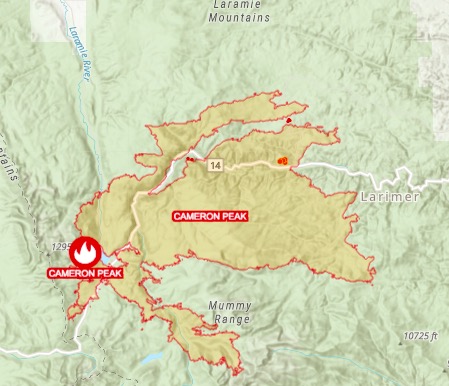 The edge of the fire is 14.6 miles from my house, and it's moving away from us. But we are not complacent, have been doing a lot of work around the yard to try to remove vegetation that might burn. And bags are packed.




Fire Retardant drop. We have tankers flying over all day, some with retardant, some with water, headed for the fires.




The weather forecast for the next couple of weeks is 'warm and dry' and there is a slight chance of moisture mid-October, but these fires are not expected to be calmed down until late October or later.

Water scoopers pick up water from nearby reservoirs.