Because our friends who J was staying with are allergic to cats, we really needed to locate a place to live fast. Finding a place in our financial bracket wasn't easy. Most were either in a bad neighbourhood, had a reputation for bedbugs, (or both A & B!), or were insanely small. It was a pretty stressful time, to say the least.
We finally ended up renting the first floor in a duplex. Not our first choice... but our first choice had bedbugs. (Said the real estate rep, "If any building in Toronto tells you they don't have bedbugs, they're lying." Um, wrong answer.)
Anyway, the place we're in has the nicest landlords you'll ever meet, and to sweeten the deal, they didn't charge us for the last two weeks of Nov. I think they were as desperate to find decent renters as we were to find a place to live. (Apparently, their last tennent had to be evicted.)
Unfortunately, the layout of our place is the worst. Basically, there's the living room, which is open to the dining room. Then there's a door off the dining room to the kitchen. There's a small powder room in the kitchen. And then, you have to go downstairs to the shared laundry room in order to access our main (not-shared) bathroom. It's an awkward layout because you can't just walk from the biffy to the bedroom in the buff in case you run into someone doing their laundry, or the gal downstairs taking her dog out for a walk. It's also an awkward layout, because you may have noticed that I never said anything about a bedroom. Nope. Our bedroom is the dining room. It's really weird. We'll never have company over, I don't think. (Not that we have any furniture for 'em to sit on anyway! Ha.)
Oh well... it's only a year of our lives, so we're making it work. Thankfully our neighbours above and below us are very nice.
The neighbourhood itself is an interesting mix of cultural, sketchy and up n' coming. We are near a couple desirable areas, known as Leslieville and The Beaches. But apparently our hood used to have a bad rep in years past, with prostitutes on residential streets like ours, and other criminal activity. Apparently the fast-rising cost of the housing market has pushed that element away in the last 5 or 6 years. Even so, sad to say, but some of that element still exists, as just last week a girl was sexually assulted at only 8:00 at night, just a couple blocks from here. Ugh. I guess it can happen anywhere tho. I had someone stabbed to death outside my place in Kelowna, and I lived in a cute residential neighbourhood.
The Little India aspect is cool tho. Tons of cheap n' spicy vegetarian food - you can't go wrong. All the stores with their stunning saris are also lovely - especially at night when they're all lit up and the sequence shimmers. Just beautiful.
I took this photo of J just a couple blocks from our place. A lot of the restaurants n' stores feed the pigeons. I didn't expect to startle them walking past, but the result was pretty awesome. I'm surprised the pic didn't end up being blurry, as I staggered backwards.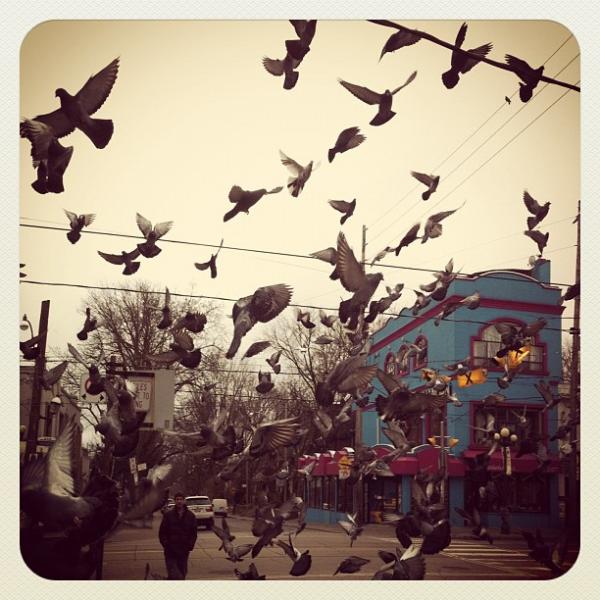 Anyway, I have to get ready for work now. More on that chapter later!