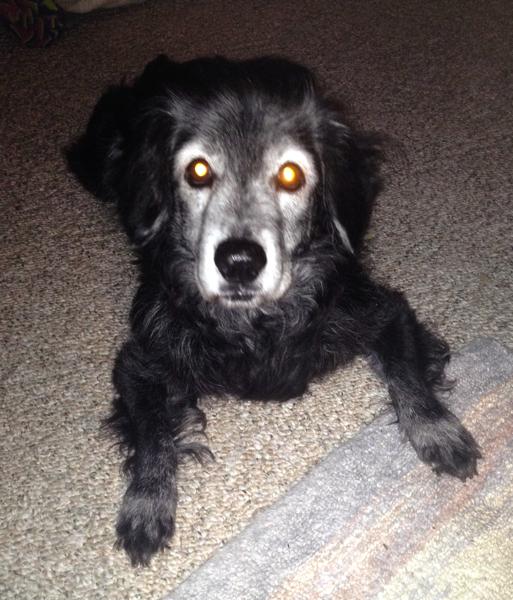 Two months and five days ago, Bella passed. Yesterday, I had to let Cassie go. I had taken her into the emergency vet clinic because she was sick and my vet wasn't available. Thursday night I had noticed her tummy was hard and enlarged.
They took her for evaluation and x-rays. Soon after that, I went to a room so the vet could show me the x-rays. She had a large mass in her abdomen - it looked huge on the screen. It was pushing her stomach and diaphragm and intestines out of their natural positions. The vet said it was probably cancer - a very aggressive kind. She said she could do an ultrasound and blood work and possibly a biopsy if I wanted a definitive diagnosis.
The treatment would involve surgery. She said that if I didn't want her to have surgery or chemo or radiation, there wasn't any good reason to continue with testing. The vet agreed with me that surgery was a big risk for her.
She offered to put her on some pain meds so I could take her home - but then said she'd only live a few more days anyway. Less than a week, she said.
I had to think of her comfort and quality of life. She hadn't wanted to get off the couch at all the day before and hadn't been eating all of her food for several days. Her quality of life was slipping fast. It's been bitterly cold and we've had mountains of snow making it hard for her to go outside. She kept getting ice balls stuck between her toes so she couldn't walk back inside and yet hated to be carried.
Cassie had loved the snow from our first winter together. She came from southern Indiana so I don't know how much snow she had seen before - but she played in it like a puppy - even a couple of weeks ago. Not wanting to go outside in the snow was very unlike her. It must have frustrated her - knowing it was there but being very uncomfortable in it and not wanting to be in it.
She slipped away while I was stroking her head and telling her how much I loved her. It was fast and painless. She is at peace.
She gave me over 9 years of love and silliness and companionship. I miss her very much. Gertie misses her a lot too. They were inseparable and I fear for Gertie's future now.