"Sunshine and Shadow" is a quilt pattern name, and today I found out it's used regionally in the Lancaster, Pennsylvania area; an Amish pattern. That layout is also referred to as "Trip Around the World." Comparing pictures, a lot of the difference is the overall color scheme and arrangement of hues. The Amish version tends to be the subdued solid colors of their clothes while the trippy version can include floral prints and brighter colors.

Sunshine and Shadow



Trip Around the World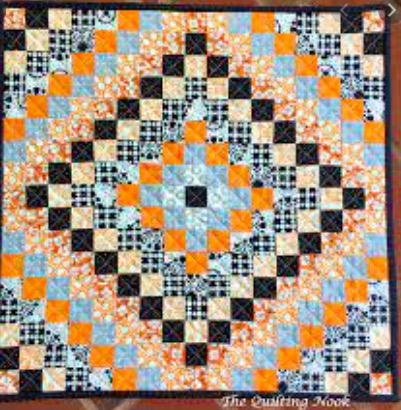 No, I'm not going to make a quilt in either one of these patterns because I have a couple of quilt projects of my mother's to finish first.

Today, Sunshine and Shadow came to mind as a way to describe our recent weather. Up until this first week of June, our days were in the 50 degrees F area, our nights around 33 degrees, with rain. Even the Memorial Day holiday weekend was not a good one to go camping around here. But then the heat wave arrived, and all of a sudden we have summer weather. Our overnight lows are 50 degrees F, daytime highs are in the 70s nudging the 80s. Now our transplanted seedlings can start getting down to the business of blooming and producing fruit and vegetables.

Bears? Yes, the bears are out. One of them visited us the other day at 1:15 pm. I was proud of myself for running out to yell at it like we're supposed to instead of taking pictures and waiting to see what happens next.

Mice? Nothing like last year's over-population, but we're on alert.

Wildfires? Our part of the state has had a lot moisture, so we are out of the drought for now. But the western side of our state is experiencing extreme drought, and last year we found out wildfires can jump over the Continental Divide and burn us all down. Also, we have a long hot summer ahead of us.