March and April are our snowiest months here in Colorado. When there's a reputation like that to maintain, there's bound to be snow this time of year.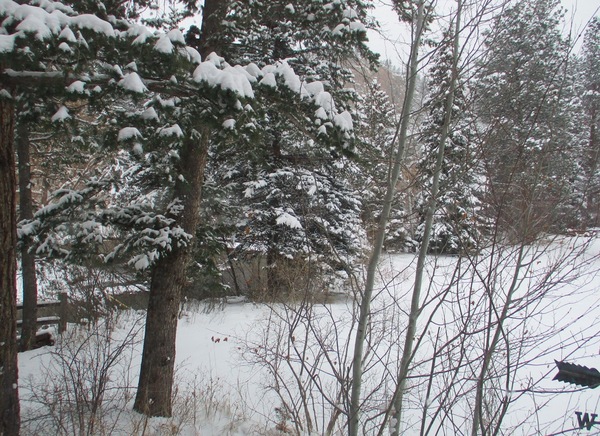 It snowed yesterday and today, not hard and fast, but at least lightly. We'll come out of this into warm weather: the forecast for Denver on Friday is 70 degrees.

Speaking of reputations to maintain, our local tourist magnet, Rocky Mountain National Park, has millions of visitors a year - 4.6 million last year. The Park has been closed to visitors since March 20th. Initially, the National Park Service had declared its parks would waive all admission fees so that people laid off from work and supposed to be social distancing would be encouraged to recreate in the great outdoors.

The problem with that was this policy would bring increasing numbers of visitors to our area, including the gateway town of Estes Park, which has a 23-bed hospital.

Average visitors to the Park in March and April combined are 250,000 - 300,000, with more coming if admission is free. The town's year-round population is 4000. The state's Stay-at-Home orders didn't discourage people from coming up to the mountains with the family. Even if they didn't spend the night there, they'd be using various services to get there and while passing through.

Those visitors would need food, lodging, and services, but to avoid public gatherings, the state had closed the restaurants and other 'non-essential' services. And people out recreating in nature get lost and have medical issues, putting further stresses on the emergency responders and search and rescue groups because they are supposed to maintain social distancing while trying to save peoples' lives.




So the Town's government closed all the short-term lodging and asked the Park Service to close the Park. Like the rest of the country, the big debate is when will it all reopen again.

Now, I'm wondering how much this year's park visitation will increase to compensate for the time that it was closed. In the past, when there's been some global situation, park visitation increased because more Americans vacationed within the United States instead of international travel.

Photo: Trail Ridge Road on a summer day in Rocky Mountain National Park - cars bumper-to-bumper as far as the eye can see on those distant switchbacks.