I enjoy seeing how some of the Las Vegas restaurants describe their special Thanksgiving menus.
The Palms: Roasted pumpkin soup, foie gras torchon or Waldorf salad; Alaskan halibut, langoustines or broccoli and potato gnocchi gratin; roast turkey, pork loin and pork belly, beef short rib or butternut squash risotto; dessert trio of pumpkin cheesecake, apple tarte tatin and chocolate pecan tartlet, $95. Wine pairings, $55.
Definition of foie gras torchon: Foie gras torchon is the sister to foie gras terrine. The only real difference is the shape and cooking preparation. Both terrine and torchon are made from raw foie gras and little else. "Torchon" means "dish towel" in French, since the foie gras was traditionally wrapped in a towel for cooking.
This is what it looks like:
Allegro, Wynn Las Vegas: Roasted turkey with gravy, mashed potatoes, sausage stuffing and cranberry sauce, $42; butternut squash risotto, $35; roasted Brussels sprouts, $10; baked macaroni and cheese, $10; pumpkin pie $12.
$42 + $10 + $12 = $64 before beverages, taxes, and tips.
Andre's Bistro and Bar: Lyonnaise salad with turkey confit or butternut squash soup; jumbo scallop with braised cabbage (garlic sausage and white wine butter sauce, $7 extra) or sauteed gnocchi with winter vegetables; turkey, steak or Scottish salmon; pumpkin pie, apple tart tatin or chocolate crumble, $48.
This is lyonnaise salad, those rectangles are thick bacon, and that's a poached egg on top: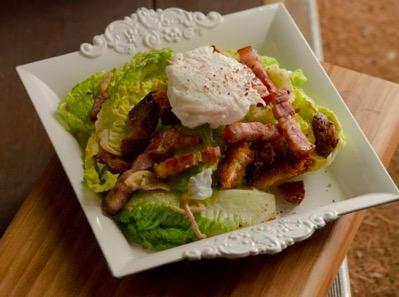 Definition of Turkey Confit: "Curing and cooking turkey legs and wings in duck fat renders them succulent; roasting them in the oven afterward makes them crisp."
Aureole, Mandalay Bay: Deviled Scotch quail egg, kabocha squash bisque, roasted turkey breast and leg confit, stuffing, potatoes, green beans almandine, cranberry gelee, giblet gravy and pumpkin pecan pie, $65.
Ever since the shooting, business has fallen off at Mandalay Bay and they are giving the employees shorter hours; the union is looking into that. Despite these fancy words, this meal will look mundane - a teeny deviled egg, some orange soup, nothing special about the green beans, jellied cranberry sauce and turkey meat, both white and dark.
Bahama Breeze: Jerkturkey and pork and sides such as callaloo, green beans, cornbread stuffing, cranberry-pineapple chutney and mashed potatoes or cinnamon mashed sweet potatoes, and pumpkin praline pie, $18.99, or $6.99 for kids.
This one at least has more character.
Bazaar Meat, SLS Las Vegas: Turbot or turkey; cheddar cheese potatoes, stuffed olives, croquetas de pavo, salad, shrimp and crab cocktail, green bean casserole, spiced cranberries and stuffing; and pecan pie, roast apple puff pastry and pumpkin tart, $85.
SLS used to be the Sahara. Croquetas de pavo are so ethnic, I couldn't find a recipe in English - it's turkey croquettes.
Carmine's, the Forum Shops at Caesars: Dinner for 6 to 8 with 18-pound roasted turkey, sausage and sage stuffing, cranberry sauce, Brussels sprouts, string beans, carrots, sweet potatoes, mashed potatoes and pumpkin, apple or pecan pie, $249.95.
Doesn't include beverages, tax, or tip, so it'd be >$50 per person, but I like the idea of the family style service and potential to take home leftovers.
Charlie Palmer Steak, Four Seasons: Beets with arugula and goat cheese, lobster bisque with truffle creme fraiche or scallops with butternut squash puree and sage farro; turkey breast with braised leg, stuffing and gravy, or bone-in New York strip with mushroom ragout, or swordfish with oscar-style quinoa; sweet potato puree and Brussels sprouts; and pumpkin spice cheesecake, pecan pie or chocolate peanut butter bar, $58.
This is an interesting menu. Farro is a type of wheat, cooks up a little bit chewy, like barley. Oscar-style usually involves crab, so "oscar-style quinoa" might be quinoa with crab stirred in, sort of a risotto.
Chica, The Venetian; 702-805-8472 or venetian.com: Sweet plantain soup, $11 (foie gras, $8 extra); turkey enchiladas with jalapeno-pomegranate pico, $28; spiced pumpkin cheesecake, $14.
Citizens Kitchen & Bar, Mandalay Bay: White and dark meat turkey, spiral ham, Stuffin' Muffins, mashed potatoes, green beans, cranberries, gravy, salad, cornbread and pumpkin pie, $39.99 for all you can eat, $16.99 for children 12 and younger.
This will probably include beverages, so not that bad a deal, except that's a lot to pay for kids who might not eat much. Stuffin' Muffins sounds interesting, but mind you, they put all this out on a buffet, and it just looks like cooled off, stale food.
Costa di Mare: Chestnut soup with crab and fennel cream, roasted acorn squash with farro salad, sage tagliatelle and turkey with trimmings, $110. Seasonal specials with Alba white truffles available.
Tagliatelle is pasta that looks like fettuccine.
Hash House A Go Go, multiple locations (except Rio); hashhouseagogo.com: Roasted turkey breast with trimmings, $17.99; smothered Thanksgiving stuffed turkey burger and sides, $12.99; turkey pot pie, $15.99; pumpkin cinnamon roll flapjack, $9.99; pumpkin bread pudding, $8.99; Huckleberry Sin cocktail, $9.99 with souvenir Mason jar.
I googled it, and the Thanksgiving Turkey Burger recipe that came up involves mashed potatoes. You'd think stuffing could play a part in that, but they must have their reasons.
Cinnamon Roll Pancakes Recipe
- this is a show stopper, a Paula Deen-esqe delight.
Yardbird Southern Table and Bar, The Venetian: Butternut sage ravioli, $16; parsnip potato soup, $14; turkey with gravy and cranberry compote, $32; sweet potato casserole, $10; Brussels sprouts, $10; Mama's Biscuit Stuffing, $10; bourbon pecan pie, $14; peach cobbler, $25. Turkey Leg, with house-made spiced cranberry puree, Wild Turkey 81, lemon, orange bitters and sparkling wine, $14.
How can a serving of peach cobbler be worth $25? Here's the menu description of it:
"marzipan crumble, french vanilla ice cream, florentine almond cookie bowl, cinnamon twist please allow 25 minutes for preparation"
Trevi Italian Restaurant, the Forum Shops at Caesars; 702-735-4663 or trevi-italian.com: Roasted pumpkin soup, turkey porchetta, gravy, stuffing, mashed potatoes, roasted yams, green bean casserole and pumpkin mousse, $45.
Turkey Porchetta: deboned turkey breast cured with garlic, fennel, sage, and red pepper and wrapped in its own skin before roasting
This is just a sampling of the ones that caught my eye. There are many restaurants offering the standard-sounding meal for a fairly reasonable price. The casino buffets are mobbed on Thanksgiving Day - it's easier to get a seat at one of the full service restaurants, and the prices aren't that much different because casino buffets range from $16.99 to $60 per person.
Trends: of the 109 restaurants listed, 8 had turkey confit and 11 had 'braised thigh' on the plate with turkey breast to make it more interesting. No idea how much dark meat, because some people don't like it, so I'm guessing it's just a token little bit.