The state tree of Oklahoma is the Eastern redbud and I'm going to show you a few reasons why. I'm also going to show you the fun pictures of Jennifer's and my participation in the Redbud Classic, a weekend race event which raises money for worthy causes here in Oklahoma. Click the link to read all about it after you see my pictures!
First things first: the lovely First Lady and her chaperone.


Then, there was this guy: He's there every year cracking jokes.


This is a part of the crowd, most of it, actually: The 5K, 10K and 2 Mile Walk boasts 3,200 participants!



The homeowners along the route go "all out" with decorations, live bands and cute kids with hand-drawn posters and happy high fives!


This mariachi is an annual favorite!

Then there were these tulips that really stood out: (next up, the Eastern redbud. By the way, in full bloom this year in time for the race!)


Eastern redbud: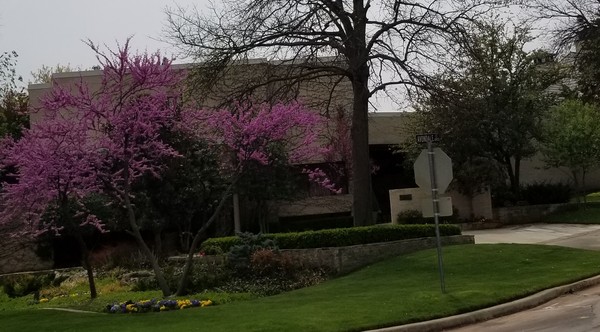 Jennifer did the 5K (3.1 miles) first one ever! I did the 10K (6.2 miles), and it was brutal as my training runs never included 74-degree weather. It was humid and hot and I walked more than I wanted. However, as Jennifer says, "At least you were out there running and not sitting on the couch eating Cheetos." She's right.

The redbuds were beautiful and I'll probably do it again next year.