Almond-Vanilla Crumble Crust
Makes one 10-inch pie crust.
5 stars!!
This is a lovely almond crust that serves as a scrumptious stage for any filing. Fill with fresh fruit and top with frosting.
1 ½ cups soaked almonds
½ cup dry almonds
4-6 soft dates, pitted
1 tablespoon maple syrup or raw honey
1 tablespoon vanilla extract
1 teaspoon almond extract (optional)
Pinch sun-dried sea salt
Soak 1 ½ cups of the almonds in 3 cups fresh water for 6-12 hours. Drain and rinse. Spread almonds on a dry towel and blot dry.
In a food processor, chop the remaining ½ cup dry almonds into a fine meal. Set aside. Chop the soaked almonds into a fine meal. Cut or break the dates into pieces. If the dates are very dry or firm, soak them in ½ cup fresh water for 5 minutes to soften. Add date pieces, maple syrup or raw honey, vanilla, almond extract, cinnamon, and sea salt to the chopped soaked almonds and mix well. It may be necessary to scrape the sides of the food processor with a rubber spatula and continue to chop. Add the dry almond meal and chop until well mixed. This will help to dry the dough into a nice, crumbly consistency.
The dough should be crumbly but sticky enough to hold a shape when pressed. IF the dough is too dry, add 2 tablespoons fresh water and mix well. Press the dough evenly into a pie plate or a torte pan. It is best to press the dough to the sides of the plate or pan first and then press into the bottom for even depth.
To scallop the edge of the crust: Use the thumb and forefinger of your dominant hand to pinch the edge of the dough successively around the rim of the plate or pan. Use the forefinger of your other hand to press against the pinches to keep them neat & orderly.
Fill, frost, and serve with love.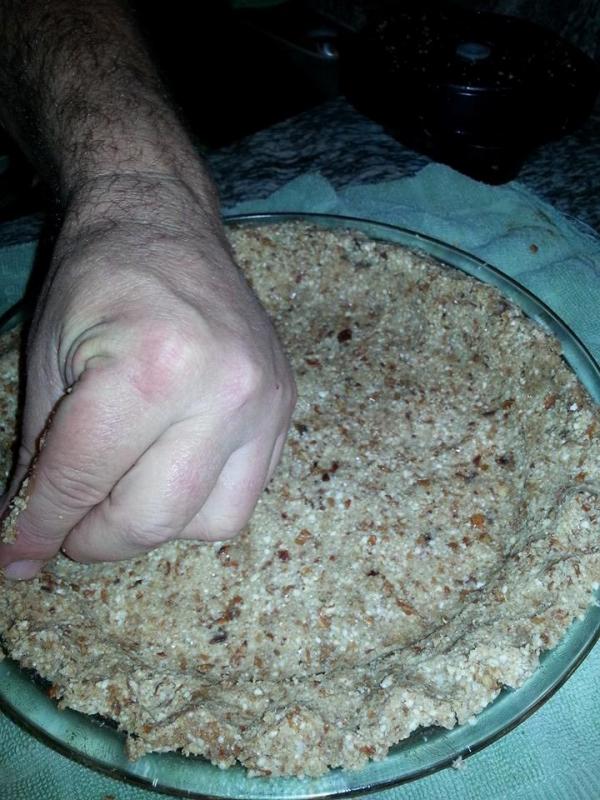 Papaya and Cream Pie
Makes 8-10 servings
Papaya are the essence of the islands with a light cream for a marriage made in heaven.
Pie crust
1 big Papaya (or 6 peaches)
1 cup whole raw cashews (pieces can be used)
¼ cup raw honey
¼ cup lemon juice
1 tablespoon vanilla extract
2 teaspoons cinnamon
Pinch of fresh nutmeg
Pinch sea salt
Prepare the pie crust. To make the filling: Soak cashews in 2 cups of fresh water for 30 minutes. Drain and rinse. Peel the papaya, cut the papaya in half, and remove the seeds.
In a blender or food processor, blend cashews, honey, lemon juice, vanilla, cinnamon, nutmeg, and sea salt until smooth. Fold the cashew sauce into the sliced papaya. Spread the papaya and cashew mixture into the pie crust. Allow to chill for an hour or two in the refrigerator before serving.